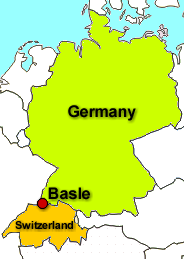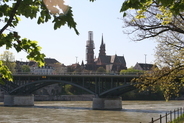 Basle cathedral (Münster)
Standort
Location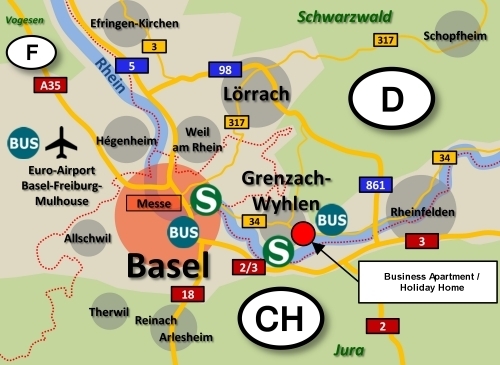 Grenzach-Wyhlen befindet sich im süddeutschen Markgräflerland in unmittelbarer Nähe zur Schweiz und grenzt nahtlos an Basel an. Oft wird es als "Konklave" bezeichnet, da es sogar von mehreren Seiten durch die Schweiz eingekesselt ist. Die letzten Ausläufer des Schwarzwalds befinden sich im Norden von Grenzach-Wyhlen (Rührberg). Auf der anderen Seite des Rheins im Süden beginnt bereits das Juragebirge. Weiter im Westen befindet sich dann schon Frankreich mit den Vogesen. Das Rheinknie in Basel bildet den Abschluß vom Oberrhein, unterhalb von unserem Ort spricht man dann bereits vom Hochrhein. All das beschert unserer Region einen außerordentlich hohen Freizeitwert. Entdecken Sie die unzähligen Möglichkeiten!
Die Ferienwohnung befindet sich in einer ruhigen Seitenstraße der Bundesstraße 34.
Grenzach-Wyhlen is located in the South German Markgraeflerland very close to Switzerland and is directly connected to Basle. Often it is described as kind of a conclave, because Switzerland surrounds Grenzach-Wyhlen from multiple sides. You can find the last foothills of the Black Forrest in the North of Grenzach-Wyhlen (a hill called Ruehrberg). In the South on the other side of the Rhine river the Jura Mountains begin. Further West there is already France and its Vosges. The Rhine Knee in Basle is the end of the Upper-Rhine, here in our city it is named already High-Rhine. All these things contribute to the exquisite recreational value of our area. There are so many possibilities to enjoy yourself. It's all yours to discover!
The holiday home can be found in a quiet side road of Federal Road 34.