Bewertungen:

Ratings: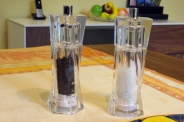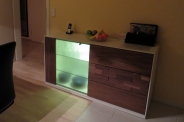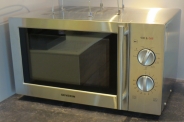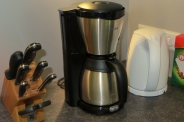 Wohnküche
Kitchen and Diningroom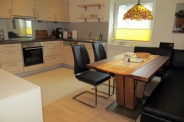 Ein weiterer zentraler Raum der Wohnung bildet die gemütliche und funktionale Wohnküche, die alles zu bieten hatten, was Sie zur täglichen Selbstversorgung benötigen, sei es die Bereitung eines schmackhaften Frühstücks oder die Zubereitung eines schmackhaften Gourmet-Gerichts für Ihre Freunde oder Familie.
An additional central room in the apartment is the cosy and functional kitchen and dining room, which provides everything that you will need for your daily preparation of meals, regardless if it is a tasty breakfast or if you decided to cook a gourmet dinner for your friends or family.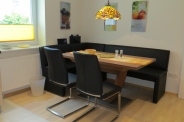 Ein großer Esstisch mit Sitzecke und Stühlen für 4-5 Personen bietet Ihnen reichlich Platz, sich auszubreiten. Ein Toaster in Reichweite versorgt Sie mit frischem Toast, und ein erstklassiges Radio, das analogen, digitalen sowie Internet-Radio-Emfang bietet, lässt Sie mit 99%iger Wahrscheinlichkeit Ihr gewohntes Frühstücks-Radio-Programm hören, wo auch immer Sie herkommen.
A dining table with lounge and two chairs offers enough space for 4-5 people to feel comfortable. A toaster nearby provides you fresh toast, and a high-quality radio with analog, digital and internet receivers equiped, lets you listen to your favorite morning show with 99% chance, whereever you are coming from.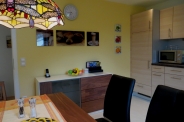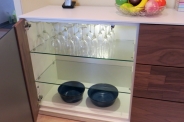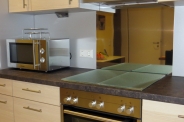 Die Küche bietet Ihnen die folgende gehobene Ausstattung:
The kitchen offers you the following upscale equipment:
Kühlschrank mit Gefrierfach
Elektro-Herd mit 4 Platten und Backofen
Geschirrspülmaschine
Abzugshaube mit Abluft nach draußen
Kaffeemaschine
Wasserkocher
Toaster am Tisch
Mikrowelle mit Grill und Auftaufunktion
Kochgeschirr (Qualitäts-Töpfe und -Pfannen)
Qualitativ hochwertiger Messerblock
Geschirr und Besteck für 8 Personen
Wein- und Sektgläser
Grundausstattung an Kochutensilien
Spezielle Kochutensilien auf Nachfrage
Zwei getrennte Abfalleimer
Schnurloses Komfort-Telefon
Weltempfänger (Analog-, Digital-, Internet-Radio)
Funkuhr
Refrigerator with freezer
Electric stove with 4 ceran plates and baking-oven
Dishwasher
Extractor hood (air goes outside)
Coffee machine
Electric kettle
Toaster on the table
Microwave with grill and defrost function
Cookware (quality pots and frying pans)
Tableware and cutlery for 8 people
Wine and champagne glasses
High quality kitchen knife block
Basic equipment of cooking utilities
Special cooking utilities on request
Two separated garbage bins
Modern cordless phone
Analog, digital and internet radio
Radio-controlled clock