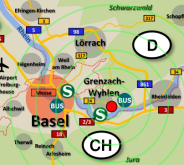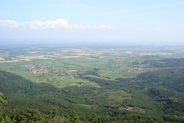 View to the Rhine Valley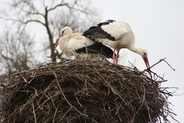 Storks in Basle building their nest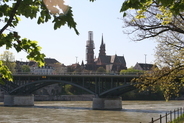 Basle cathedral (Münster)
Städte und Gemeinden der Umgebung
Municipalities in the Surrounding Area
Die folgende Auflistung gibt einen kleinen Überblick über unser direktes Umland und Zugriff auf die Webseiten verschiedener Nachbarorte, auf denen Sie weiterführende – auch touristische – Informationen finden können. Klicken Sie auf das Symbol

für eine Kartenansicht.
The following list gives a short overview about our surroundings and access to websites of our neighboring cities and villages, where you may find advanced information, also for tourists. Click on the symbol

to show a map with the location of the city.
Ort / Link

City / Link

Entfernung

Distance

Kommentare

Remarks

Basle
6 km

Da dies ohne Frage der wichtigste Ort in der näheren Umgebung ist, listen wir ihn ganz oben. In Basel gibt es alles, was Sie von einer Stadt mit rund 200'000 Einwohnern erwarten: Eine schöne Altstadt, gute Restaurants, Kultur pur, viele Museen, eine große Fussgängerzone mit vielfältigen Shopping-Möglichkeiten, und, und, und ... Sehen Sie selbst.

Since it is without question the most important city in our neighborhood, we list it at the very top. In Basle you will find everything that you would expect of a European city with approx. 200,000 inhabitants: A beautiful old city, good restaurants, culture unlimited, many museums, a large pedestrian zone with a multitude of shopping opportunities, and much, much more ... Have a look yourself.
Deutschland
Germany
Grenzach-Wyhlen
0 km

In diesem Ort leben wir. Hier befindet sich unser Haus mit Business Apartment und Ferienwohnung.

We are living in this city. Here is our house located with the Business Apartment and Holiday Home.

Inzlingen
6 km

Hier gibt es ein berühmtes Wasserschloss, das ein gutes Gourmet-Restaurant beherbergt.

There is a famous moated castle, which is home of an exquisite gourmet restaurant.

Rheinfelden (Baden)
8 km

Rheinfelden ist eine geteilte Stadt. Es gibt eine deutsche und eine Schweizer Seite. Empfehlenswert ist ein Bummel durch die schöne Altstadt und entlang des Rheins, der durch Rheinfelden fließt.

Rheinfelden is a devided city. There is a German and a Swiss part. We recommend to do a walk throught the beautiful old city and along the Rhine, which flows through Rheinfelden.

Weil am Rhein
10 km
(via Basle)

Die Stuhl-Stadt im Dreiländereck. Weil am Rhein ist berühmt für die Firma Vitra, die neben ihren bekannten Stuhldesigns auch durch Industrie-Design und ausgefallene Architektur glänzt. Ein Besuch hier lässt sich auch gut mit einem schönen Rheinspaziergang kombinieren.

The Chair City in the Dreiländereck (Three Country Corner). Weil am Rhein is home of the famous company Vitra, which not only well-known for its famous chair designs, but also for other industrial designs and modern architecture. When visiting the company you may combine it with a nice walk on the Rhine nearby.

Loerrach
11 km

Die Kreisstadt Lörrach ist die nächstgelegene größere deutsche Stadt und lädt zum Bummel in der Fussgängerzone, zum Shoppen und zum Geniessen von verschiedenen kulturellen Höhepunkten ein, z.B. dem sommerlichen Stimmen-Festival.

The district town Loerrach is the next bigger German city and calls for a stroll trough its pedestrian zone, for shopping and for visiting and enjoying many of the cultural highlights, e.g. the Summer Voices (Stimmen) Festival.
Schweiz
Switzerland
Riehen
8 km

Als Anhängsel zu Basel gehört Riehen noch zum Kanton Basel-Stadt und bezaubert durch seinen ganz eigenen Charakter.

Riehen as a satellite town of Basle belongs also to the canton Basle-City and fascinates by its very own nature and character.

Bettingen
9 km

Hoch oben noch über Bettingen liegt St. Chrischona und bietet neben dem höchsten Turm der Schweiz bei klarem Wetter einen wunderschönen Ausblick auf die Kette der Luzerner und Berner Alpen.

High above – even above Bettingen – there is St. Chrischona and offers not only the highest tower of Switzerland, but also a wonderful outlook to the chain of Lucerner and Berner Alps when the weather is clear.

Rheinfelden (Aargau)
9 km

Die Schweizer Seite der Stadt Rheinfelden besitzt einen sehr gut erhaltenen Altstadtkern, der durchaus sehenswert ist.

The Swiss part of Rheinfelden possesses a well-preserved old city, which is well worth seeing.

Kaiseraugst
9 km

Gerade auf der gegenüberliegenden Rheinseite Wyhlens gelegen, bietet Kaiseraugst viele interessante Ausgrabungen aus der Römerzeit. Ausserdem lässt sich die Besichtigung dieser Anlagen mit einem schönen Spaziergang am Rhein verbinden.

Just laying across from Wyhlen on the other side of the Rhine, Kaiseraugst offers many interesting archeological excavations from the times of the Romans Empire. Furthermore, it is possible and recommended to combine a visit there with a walk at the Rhine.