Bewertungen:

Ratings: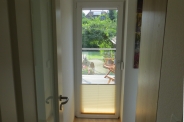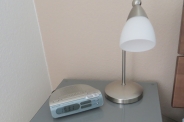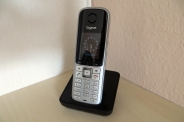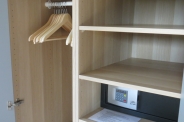 Schlaf- und Arbeitszimmer
Bedroom and Office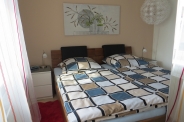 Entspannen und wohlfühlen, schnell noch die Emails checken, die Late Night Show geniessen, dem Mondschein auf dem Balkon nachspüren und dann selig einschlafen ...
Feeling good and relaxing, quickly checking your emails, enjoying the Late Night Show, catching the moon light on the balcony, and then falling asleep peacefully ...
Schlafbereich
Sleeping Area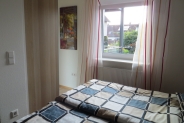 Zwei 90cm breite und 2,00m lange stabile Betten aus Massivholz mit Allergiker-freundlichem synthetischem Bettzeug und hautfreundlicher 100%-Baumwoll-Bettwäsche werden zu Ihren erholsamen Nächten beitragen. Die Matrazen haben eine weiche und eine harte Seite, so dass jeder den richtigen Härtegrad finden kann. Die Betten können übrigens nebeneinander oder getrennt gestellt werden.

Two 90cm (36in) wide and 2,00m (79in) long and robust beds made of solid wood with allergy-friendly synthetic bedding and eudermic 100%-cotton bed linen will account for your restful sleep at night. The mattresses have a soft and a hard side, so that everbody will find the perfect degree of hardness. By the way, the beds can be placed beside each other or separated, just as you like.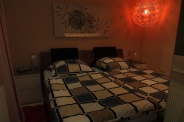 Zwei Nachtleuchten mit berührungsempfindlicher Schaltung sorgen für angenehmes Licht beim Lesen vor dem Einschlafen. Ein zusätzliches Ambiente-Licht, das im Dunkeln fantasievolle farbige Lichteffekte an Wand und Decke zaubert, hilft beim Entspannen und Träumen. Und ein digitaler Radiowecker sorgt dafür, dass Sie pünktlich am Morgen erwachen. Ein großer Kleiderschrank bietet genug Raum für Ihre Kleider, Hemden und Hosen. Zwei große Spiegeltüren helfen Ihnen dabei, sich perfekt zu kleiden.
Two bedside lamps with touch-sensitive switches will provide a pleasant light during reading before you fall asleep. An additional ambience light which paints in the dark fanciful colored light effects on ceiling and walls helps you to relax and dream. And a modern radio clock will take care that you awake softly in time at the next morning. A big wardrobe offers enough space for all your dresses, shirts and pants.
Two big mirrored doors will help you to dress up perfectly well.
Arbeitsbereich
Working Area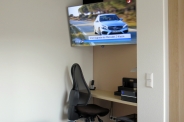 Vom Bett aus haben Sie einen perfekten Blick auf den riesigen Flatscreen Smart-TV, der über einem kleinen Schreibtisch aufgehängt ist. Angeschlossen ist dieselbe Multimedia-Anlage wie im Wohnzimmer, die Sie DVDs, Radio und MP3s geniessen lässt. Der Schreibtisch bietet Platz für Ihren Laptop, um noch schnell ein paar Dinge für's Büro zu erledigen, das nächste Meeting vorzubereiten oder Emails zu checken. Wir verfügen über einen DSL 250Mbit/s High Speed Anschluss. Hierüber verbinden Sie sich bequem per VPN mit Ihrem Firmennetzwerk. Auf dem Schreibtisch steht auch ein weiteres schnurloses Telefon, um mit Geschäftspartnern in Verbindung zu bleiben. Ein kleiner Beistellschrank mit Schubladen unter dem Schreibtisch sorgt für Ordnung und Akten-Stauraum. Und ein fest installierter großer Hotelsafe schützt Ihre Wertsachen, Ihren Laptop oder sogar vertrauliche Dokumente im Aktenordner.
When laying on the bed you have a perfect view on the huge flatscreen Smart-TV, which hangs on the wall above a little desk. Connected with it is the same multimedia station as in the living room, which lets you enjoy DVDs, radio or MP3s. You can put your laptop on the desk to do some last minute things for the office, to prepare the next meeting or to check your emails. We have a high-speed DSL 250Mbit/s internet connection. With it you may easily connect your laptop with your company's intranet via VPN. On the desk you find also an additional cordless phone to stay in touch with your business partners. A small cupboard with drawers keeps you organized and lets you store your files. And a fixed large hotel safe protects your valuables, your laptop or even confidential files in a folder.