Bewertungen:

Ratings: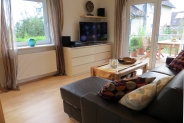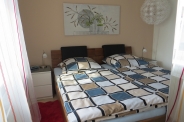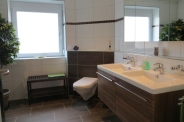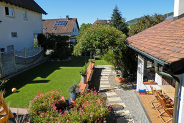 Ausstattung auf 65m²
Facilities on 700ft²
Mit unserer großzügig eingerichteten 2-Zimmer-Wohnung, die sich über 65m² erstreckt, haben wir einen Ort geschaffen, der unseren Ansprüchen an Gemütlichkeit, Komfort und Technik mehr als gerecht wird. Neben dem Wohnzimmer und Schlafzimmer bieten eine zusätzliche große Wohnküche, ein großes Bad und ein riesiger Balkon mit Blick in unseren Garten und auf einen idyllischen Springbrunnen viel Platz, um sich auszubreiten und die Seele baumeln zu lassen.
With our generous furnished 2-bedroom apartment on more than 700ft² we created a space that exceeds our requirements with respect to convenience, comfort and technology.
Beside the living room and bedroom, there is an additional big eat-in kitchen, a big bathroom and a huge balcony that offers a great view onto our backyard and of an idyllic fountain that will make it easy for you to make yourself at home and to leave your cares behind.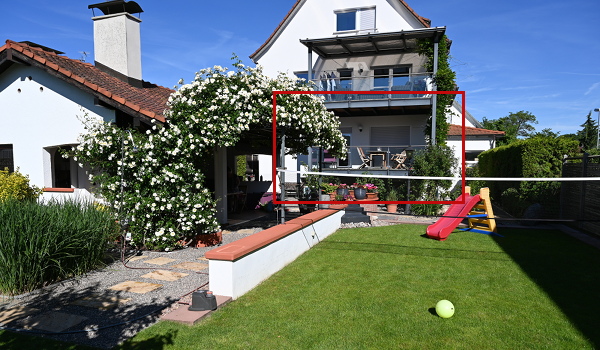 Das Apartment wurde vor einigen Jahren komplett saniert und von Grund auf neu eingerichtet. Dabei haben wir unsere eigenen Urlaubserfahrungen, die positiven und negativen, mit einfließen lassen, um Ihnen ein Optimum an Qualität und Zweckmäßigkeit zu bieten ... genießen Sie es!
Die Wohnung befindet sich im Erdgeschoss auf der Gartenseite und ist über ein paar Stufen bequem erreichbar. Innerhalb des Apartments sind alle Räume direkt vom Flur aus zugänglich.
The apartment has been renovated and totally refurnished from scratch a few years ago. In this phase we have been reflecting our own holiday experiences, positive and negative ones, to offer you optimum quality and practicality ... enjoy! The accommodation is located at the ground floor of our house facing to the backyard and is comfortably accessible with a few steps. In the apartment all rooms can be reached directly from the corridor.
Allgemeine Ausstattung
General Facilities

Der Fussboden besteht im Wohnzimmer, im Schlafzimmer, im Flur und in Teilen der Küche aus hochwertigem Parkett, im Bad und im Rest der Küche wurde gefliest.
Alle Fenster der Wohnung können voll geöffnet oder angekippt werden.
Es sind Rollläden verfügbar, die vollständig geschlossen werden können.
Eine gute Zentralheizung sorgt dafür, dass Sie auch an kalten Tagen nicht frieren.
Ein komfortables Bügelbrett und Dampf-Bügeleisen versetzen Sie in die Lage, noch schnell Ihr Hemd, Bluse, Rock oder Hose für den nächsten Tag zu bügeln.
Für ausreichend Putz-Utensilien wie Staubsauger, Besen, Handfeger und Kehrschaufel, usw. ist gesorgt.
The floor consists of parquet in living room, bed room, corridor and half of the eat-in kitchen. Bathroom and the rest of the kitchen are tiled.
All windows of the apartment can be fully opened or just tilted.
There are roller shutters available, which can be fully closed to protect your privacy.
A central heating system ensures that you do not have to freeze on cold days.
A comfortable ironing board and steam iron enable you to iron quickly your shirt, blouse, skirt or pants to be perfectly styled for the next day.
There are enough utilities for intermediate cleaning jobs whenever necessary, like hoover, broom, hand brush, pan, etc.