Bewertungen:

Ratings: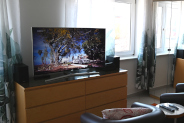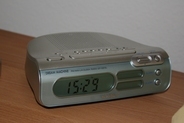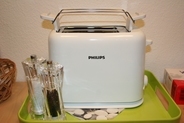 Wohn- und Schlafzimmer
Studio
Der zentrale große Raum unserer Wohnung ist das Wohn- und Schlafzimmer, das in mehrere Bereiche eingeteilt ist.
The lavishly appointed and spacious studio – the main room of the apartment – offers you different areas.
Schlafbereich
Sleeping Area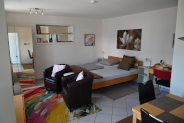 Ein 1,80m breites und 2,20m langes stabiles Doppelbett aus Massivholz mit Allergiker-freundlichem synthetischem Bettzeug und hautfreundlicher 100%-Baumwoll-Bettwäsche wird zu Ihren erholsamen Nächten beitragen. Zwei Nachtleuchten mit berührungsempfindlicher Schaltung sorgen für angenehmes Licht beim Lesen vor dem Einschlafen. Und ein digitaler Radiowecker sorgt dafür, dass Sie pünktlich am Morgen erwachen.
An extra large and robust california king size bed (1.80m x 2.20m, 72in x 87in) made of solid wood with allergy-friendly synthetic bedding and eudermic 100%-cotton bed linen will account for your restful sleep at night. Two bedside lamps with touch-sensitive switches will provide a pleasant light during reading before you fall asleep. And a modern digital radio clock will take care that you awake softly in time at the next morning.
Essbereich
Dining Area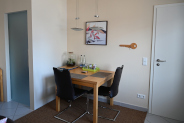 Frühstücken Sie in Ruhe im gemütlichen Essbereich.
Ein komfortabler Esstisch, der für Gäste auch einmal
ausgezogen werden kann, bietet genug Platz, um den Tag mit frisch zubereitetem Toast und frisch gebrühtem Kaffee zu beginnen und mit einem deftigen Abendbrot ausklingen zu lassen. Auch einem leckeren 3-Gänge-Menü steht nichts im Wege. Gerne stellen wir Ihnen weitere Stühle für Gäste zur Verfügung. Auch ein Kinderstuhl kann gestellt werden.
Have a quiet breakfast using the comfortable dining area.
A modern dining table, which can be extended for guests, offers enough space to start the day with fresh toast and freshly brewed coffee and to finish off the evening with a rustic dinner. There is nothing that will keep you from cooking yourself a delicious 3-course menu. On request we will be happy to make more chairs available for your guests. A high chair for a little child can be arranged as well.
Arbeitsbereich
Working Area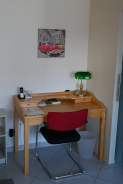 Ein kleiner Schreibtisch gibt Ihnen ausreichend Platz für Ihren Laptop, der per kostenlosem WLAN mit dem Internet verbunden werden kann. Wir verfügen über einen DSL 250Mbit/s High Speed Anschluss. Checken Sie Ihre Email oder verbinden Sie sich per VPN mit Ihrem Firmennetzwerk. Ein schnurloses Komfort-Telefon lässt Sie in Kontakt bleiben mit Ihren Freunden und Kollegen. Kostenlose Anrufe ins Festnetz vieler Länder - sogar nach Nordamerika - lassen kein Heimweh aufkommen. Ein fest installierter großer Hotelsafe schützt Ihre Wertsachen, Ihren Laptop oder sogar vertrauliche Dokumente im Aktenordner.
A small desk offers enough space for your laptop that you may connect with the internet for free via wireless LAN. We have a high-speed DSL 250Mbit/s internet connection. Check your emails or connect with your company's intranet via VPN. A modern cordless phone will let you stay in touch with your friends and colleagues. No need to hurry – calls are free for you when calling fixed networks in EU countries and Switzerland, and even when calling North America. Homesickness should not arise. A fixed large hotel safe protects your valuables, your laptop or even confidential files in a folder.
Entspannungs- und Entertainment-Bereich
Relax and Entertainment Area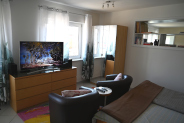 Wenn alles getan ist, einfach mal entspannen ... Bei einem guten Film in 4K oder HD-Qualität, mit Ihren MP3s oder einer guten DVD. Wir bieten Ihnen alle kostenlosen Astra-Programme, viele davon in Full-HD-Qualität. Außerdem ist der Fernseher mit dem Internet verbunden und bietet so bei vielen Sendern Zugriff auf deren Mediatheken, so dass sie kaum noch eine Sendung verpassen, da Sie diese einfach später noch ansehen können. Auch Surfen im Internet ist möglich. Alles für Sie im Preis inbegriffen.
When everything is done, take it easy and relax... Enjoy a good movie in High Definition quality, your MP3s or a good DVD. We offer you satellite TV (Astra), many of the channels in Full High Definition quality. The television is also connected with the internet, and there are many stations that offer access to their media centers. That way you will hardly miss a program, because you just watch it later when you have the time. Also browsing the internet is possible via television. All inclusive.
Sonstige Ausstattung
Other Facilities

Alle Fenster der Wohnung können voll geöffnet oder angekippt werden.
Es sind Rollläden verfügbar, die vollständig geschlossen werden können.
Eine gute Zentralheizung sorgt dafür, dass Sie auch an kalten Tagen nicht frieren.
Ein komfortables Bügelbrett und Dampf-Bügeleisen versetzen Sie in die Lage, noch schnell Ihr Hemd, Bluse, Rock oder Hose für den nächsten Tag zu bügeln.
All windows of the apartment can be fully opened or just tilted.
There are roller shutters available, which can be fully closed to protect your privacy.
A central heating system ensures that you do not have to freeze on cold days.
A comfortable ironing board and steam iron enable you to iron quickly your shirt, blouse, skirt or pants to be perfectly styled for the next day.