Bewertungen:

Ratings: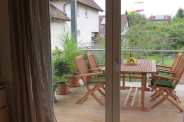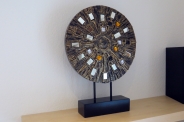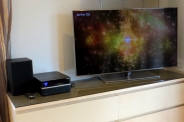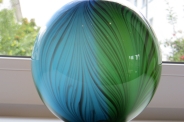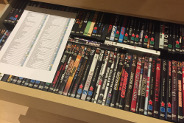 Wohnzimmer
Livingroom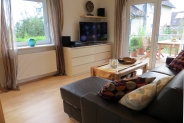 Das Wohnzimmer mit seinen großen Fenstern zum Balkon und Garten hin bietet Ihnen Komfort und Behaglichkeit.
Machen Sie es sich bequem!
The living room with its big windows towards the balcony and backyard offers you comfort and cosiness.
Make yourself comfortable!
Entspannung und Entertainment
Relaxing and Entertainment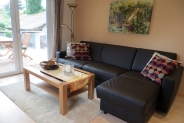 Eine gemütliche Echtleder- Couch lädt zum Verweilen ein, egal ob im Gespräch mit Freunden, bei einem guten Film auf dem riesigen Flatscreen HD Smart-TV oder einem interessanten Buch bei einem Glas badischen Weins. Eine Multimedia-Anlage lässt Sie problemlos Ihre Musik abspielen, Ihre Lieblingssendung im Radio verfolgen, oder eine DVD schauen. Wir bieten Ihnen alle kostenlosen Astra-Programme, viele davon in Full-HD-Qualität. Außerdem ist der Fernseher mit dem Internet verbunden und bietet so bei vielen Sendern Zugriff auf deren Mediatheken, so dass sie kaum noch eine Sendung verpassen, da Sie diese einfach später noch ansehen können. Alle unsere TVs bieten Ihnen auch eine Aufnahme-Funktion an, so dass Sie Ihre Wunschsendung auch zeitversetzt sehen können. Auch Surfen im Internet oder die Nutzung vieler Apps ist möglich. Unsere DVD-Sammlung mit über 100 DVDs für alle Altersstufen hält den einen oder anderen Klassiker für Sie bereit.
A homelike true-leather couch invites the guest to stay. Enjoy yourself while having a chat with friends, watching a good movie on the huge flatscreen HD Smart-TV or reading an interesting book while tasting a glass of fine wine from Baden. Multi-media equipment lets you play your music, listen to your favorite radio show, or watch a movie from DVD. We offer you satellite TV (Astra), many of the channels in Full High Definition quality. The television is also connected with the internet, and there are many stations that offer access to their media centers. That way you will hardly miss a program, because you just watch it later when you have the time. All our TVs offer you also a recording functionality, so that you can just watch your favorite TV show whenever it fits in. Also browsing the internet and using several apps is possible via television. Our DVD collection with more than 100 DVDs for all ages may contain one or the other classic for your entertainment.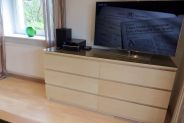 Ein schnurloses Komfort-Telefon lässt Sie in Kontakt bleiben mit Ihren Freunden und Kollegen. Kostenlose Anrufe ins Festnetz vieler Länder - sogar nach Nordamerika - lassen kein Heimweh aufkommen. Sie haben auch die Möglichkeit, mit Freunden oder Geschäftspartnern mit Hilfe der im Fernseher eingebauten Kamera zu skypen und eine Videokonferenz zu schalten.
A modern cordless phone will let you stay in touch with your friends and colleagues. No need to hurry – calls are free for you when calling fixed networks in EU countries and Switzerland, and even when calling North America. Or simply setup a Skype video conference using the camera built-in to the flatscreen TV to meet with friends or business partners.
Schlafen
Sleeping
Neben dem Schlafzimmer bietet Ihnen die große Couch durch bequemes Ausziehen eine weitere Schlafmöglichkeit für 2 Personen. Ein Ergoflex-Lattenrost kombiniert mit einer großen Bultex-Matraze bietet Ihnen den bestmöglichen Schlafkomfort - Sie werden den Unterschied zu einem herkömmlichen Bett nicht merken. Für Allergiker bieten wir Allergiker-freundliches synthetisches Bettzeug und hautfreundliche 100%-Baumwoll-Bettwäsche.
While the bedroom offers already beds for two people, the big couch in the living room can be easily turned into a cosy sleeping place for two additional people. An Ergoflex duckboard combined with a big Bultex mattress gives you the best possible sleeping comfort - You should not notice the difference to a conventional bed. For allergy sufferers we are using allergy-friendly synthetic bedding and eudermic 100%-cotton bed linen.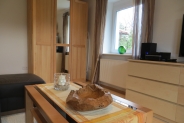 In dem großen Kleiderschrank mit Ganzkörperspiegel verstauen Sie mühelos Ihre Kleidung. Mehrere Fächer und Schubladen helfen Ihnen beim Ordnung halten. Außerdem stehen ein Bügeleisen und -brett zur Verfügung, um noch letzte Falten zu beseitigen.
In the big wardrobe with a mirrored door you store plenty of clothes. Multiple trays and drawers help you to keep order. Additionally, there is an iron and ironing board at your disposal to get rid of the last few folds.